The Ada Durairaj Endowment Fund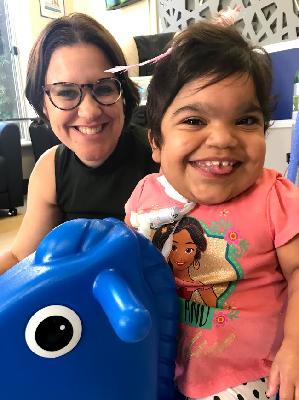 On September 6, 2019, Rady Children's Hospital said farewell to one of its most loved community members. Ada Durairaj lost her battle with congestive heart failure. She was just two years, seven months.
Born three months early on January 25, 2017, Ada spent the majority of her life at Rady Children's. Ada had a complex congenital heart defect and severe chronic lung disease. Although it was predicted that she would not survive infancy, Ada was able to beat the odds and reach toddlerhood.
Hundreds of staff members at Rady's were essential to Ada's survival and well-being. Her family wants to acknowledge the dedication of two physicians: John Nigro, who accepted Ada as a surgical candidate despite the risks, and Howaida El-Said, who was Ada's greatest advocate.
Despite her rough road, Ada was an exceptionally cheerful and charismatic child. She was known for her curly, brown mop of hair that was always playfully askew. Ada's brown eyes shined with warmth and crinkled when she smiled, which she often did. She loved to laugh and stick her tongue out when she thought something was particularly funny.
Ada enjoyed listening to and making music, books (especially "Where the Wild Things Are" when enacted by her dad), garden strolls, learning sign language, snuggling, and playing with her twin sister. She hated having her teeth brushed, but her mom still did it anyway. (And Ada always seemed to forgive her.)
Ada's favorite word to sign was "more," which she regularly used to express her delight. She taught the people around her to appreciate life in the moment, to savor the simple things, and to hold relationships dear.
While her death was tragic, her family is comforted by the fact that Ada sincerely enjoyed her short time on earth and made the most of every minute.
To honor her memory, Ada's family and friends are establishing a fund in her name at Rady Children's Hospital. It is our intention that this fund will support research at Rady Children's Heart Institute, per the family's designation. All donations are tax-deductible.
If you have questions about the fund, please reach out to Amialya ("Mia") Durairaj, at amialya.durairaj@gmail.com, Prem Durairaj, at pdurairaj1081@gmail.com, or Laura LaVoie at llavoie@rchsd.org.
View More
Fundraising Honor Roll
Mrs. Catherine Torrey
$10,000
Amialya, Prem, and Ramona Durairaj
$6,000
The Durairaj Family
$3,314
Carrie and Scott Silver
$3,000
Family of Ada Durairaj
$2,500
Family of Ada Durairaj
$1,800
Orapim, Ali, Zayden, and Malik
$500
K.Bellerose & B.Bennett
$500
Tristan, Liz & Grace Holbrook
Tristan, Liz & Grace Holbrook
$500
Kevin and Rita Burke
$500
Jeff and Jamie Keesing
$300