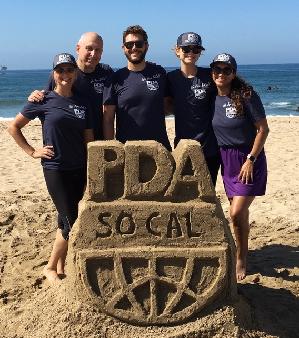 SoCal PDA Chapter
Thank You for helping Parenteral Drug Association, SoCal Chapter & OPEN Biopharma Training Institute in supporting Project Baby Bear Bridge Funding through the Rady Children's Institute for Genomic Medicine.
We are inviting employees, friends and business partners to help support our efforts and reach our goal of raising $2,500!
THANK YOU to those who have already donated at the PDA Southern California Chapter's - 4th Annual Full Day Aseptic Processing & Sterilization Symposium on 11/7/19. We collected $785.00 which is 31% to goal so far.
Let's continue working together and raise more dollars from now until the next PDA Southern California Chapter Networking & Member Appreciation Day on 12/12/19 at OPEN Biopharma Training Institiute in Carlsbad, CA.
Your donation to this page is tax deductible.
About Project Baby Bear
For children with genetic diseases, timely diagnosis via genomic sequencing enables specific, targeted treatments that save lives, prevent suffering, empower families, and cut costs associated with misdiagnosis.There are more than 8,000 known genetic diseases; approximately 30% of the infants admitted to a Level 4 NICU exhibit symptoms that could be associated with genetic disease. These symptoms include acute physical distress, developmental disorders, and/or other severe chronic illness. For this fragile patient population, genomic medicine has the potential to transform both babies' health outcomes and the healthcare economics that determine access to this life-saving and life-changing service.
Project Baby Bear is a state-sponsored research project under which our rapid Whole Genome Sequencing (rWGS) approach is being implemented for acutely ill children enrolled in the Medi-Cal program. We are sequencing babies at five neonatal and pediatric intensive care sites in California. In June 2018, the State of California appropriated $2 Million in funding for the Whole Genome Sequencing Pilot Program. The State Department of Healthcare Services in turn provided this grant funding to Rady Children's Hospital – San Diego to sequence 100 Medi-Cal babies across our five partner sites, in an effort called Project Baby Bear. At the conclusion of our state grant, we will provide California's State DHCS a report on the cost of care and outcomes of children receiving rWGS compared to those not receiving rWGS.
How Your Philanthropy Helps
Bridge funding would allow RCIGM to continue sequencing and providing results for eligible babies and families during the window between state funding cycles. Continuing this program without interruption would ensure that our partners continue to have their clinical leadership and internal resources devoted to this enterprise, while momentum at their hospitals in support of our approach has been building. RCIGM will be able to generate stronger, more iron-clad proof that our approach provides irrefutable healthcare outcomes and cost benefits. Medi-Cal will then have greater incentive to implement this service as a covered benefit and will serve as the first domino in a series of insurers likely to follow suit. Most importantly, babies' lives across California will be saved and their families' lives transformed.
View More

Team Honor Roll
ValSource, LLC - Hal Baseman
$320
American Clean Stat - Glen Witkoski
$85
SQA Services - Brad Schultz
$80
Teva Pharma - Jesse Niou
$75
Top Donors
ValSource, LLC - Hal Baseman
Gary Thurner
American Clean Stat - Glen Witkoski
SQA Services - Brad Schultz
Teva Pharma - Jesse Niou