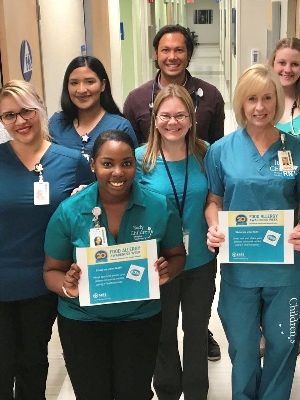 Food Allergy Research Fund
Thank you for visiting the Food Allergy Research Fund donation page!

The incidence of food allergy has dramatically increased in the United States within the last 20 years. Throughout the country, research is being done on what could be causing these food allergies, as well as how we can treat them. At our Food Allergy Center, research is being conducted in both of these areas.

Background
Every three minutes, a food allergy sends someone to the emergency room. Food allergy – a potentially deadly immune system reaction that occurs soon after eating a particular food – affects 1 in every 13 children under 18 years of age in the U.S. Reactions can range from an itchy mouth to life-threatening anaphylaxis. According to the CDC, since 1997, researchers estimate that food allergies have increased approximately 50 percent among children, but they have yet to determine why. Some children outgrow their allergy, but many of the top allergens – milk, eggs, fish, crustacean shellfish, tree nuts, peanuts, wheat and soy – remain for a lifetime. Yet despite this, research suggests that nearly 75 percent of patients with food allergies can be desensitized over time using oral immunotherapy.

By the Numbers
• 8 percent of children are affected by food allergy, and the numbers are increasing
• 30-50 percent of patients with food allergy report having had a severe reaction
• 72 percent of food-allergic preschoolers accidentally ingest their allergen
• 30 percent of children with food allergy report food-related bullying
• More than 11,000 patients cared for at Rady Children's have a peanut allergy in these areas.

How You Can Help
Please consider supporting Food Allergy Research by making a donation. The process is fast, easy and secure.

Your gift in support of the Food Allergy Research Fund helps to accelerate the team's groundbreaking research and will transform pediatric health in San Diego and beyond. Your gift will be matched by a generous match, doubling its impact. THANK YOU.


View More
Light the Way
Food Allergy Research Fund
Donations to my page support our Food Allergy Center.
Donations to my page support critical cancer support programs at the Peckham Center for Cancer and Blood Disorders at Rady Children's.
View More

No Badges Have Been Earned
Team Progress
of Goal
$0 Raised
$2,500.00